There is an updated version of this plugin here.
The AdSense revenue sharing widget for WordPress-MU will allow you, the owner of a WPMU site, to share Adsense revenue with your users. You can set the percentage of your share (default is 20%) and enter your AdSense publisher code via the 'Site Admin' backend panel (no files to edit).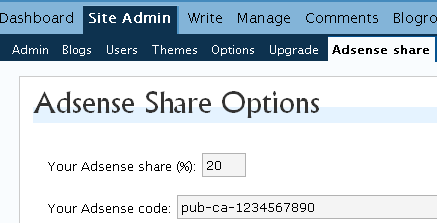 Download: adsense-share-mu.zip
Current version: 1.1 (see change log below)
Installation: extract the adsense-share-mu.php file and upload it to the mu-plugins directory.
How to use? Goto 'Site Admin' -> 'Adsense share' and set your Adsense share and your Adsense publisher code – that is it!
All your users will have to do is drag the 'Google Adsense' widget to the sidebar, click the configuration icon and enter their google_ad_client ID.
Todo for version 1.2:
add a function that could be called from the themes to place ads on pages.
add an option for the user to enter his Adsense code when not using a widget.
Change log:
Ver 1.1
If the user did not enter his Adsense code the site admin's code will be used.
A small "Sign up for Adsense" link is placed on the widget in the backend. Site admin's code is used.
Did you find this post interesting? Please subscribe to my feed.