FeedJit is a service that will show the last visitors to your blog.
FEEDJIT gives you real-time traffic data on your blog. No registration required and it's completely free. See where your visitors are located in the world, which websites they're arriving from and what they're clicking when they leave your site.
You can have it in a list or on the world map like this one: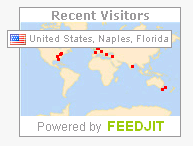 Did you find this post interesting? Please subscribe to my feed.