In my previous post about the first month data of using Amazon's S3 I had a comment asking about any down time in the service. Well, I have not noticed any down time but I would like to point you to amazon's current status page. It reads:
Amazon Web Services publishes our most up-to-the-minute information on service availability in the table below. Check back here any time to get current status information, or subscribe to an RSS feed to be notified of interruptions to each individual service. If you are experiencing a real-time, operational issue with one of our services that is not described below, please inform us by clicking on the "Report an Issue" link to submit a service issue report.
With this page you can check the status of each service, report an issue and also sign for an RSS feed for the different services.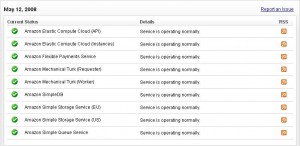 History data for each service is also available: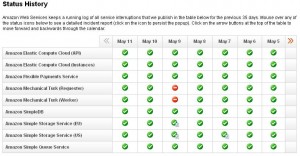 Did you find this post interesting? Please subscribe to my feed.