If you are running WordPress and using the WordPress Database Backup plugin you should read this post.
WP-DB-Backup allows you easily to backup your core WordPress database tables. You may also backup other tables in the same database. By default, the plugin backs up the core tables from a predefined list hard coded in the plugin file. Other tables may be added to the list manually.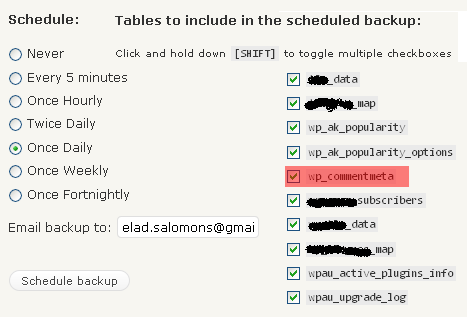 The plugin's last version, 2.2.2, came out just after WordPress version 2.7. However, in WordPress version 2.9 a new commentmeta core table was added. This new table is not in the plugin's list of tables so, by default, it is not being backed up and a manual selection is needed.
If you are using this plugin make sure you select the commentmeta table or you might face a problem when in need for a backup restore.
Did you find this post interesting? Please subscribe to my feed.